Get FREE Access to Module 1 of Guitar Riff!
Fast Track Your Guitar Skills Now!
Just Pop Your Name & Email Address In The Box And You Will Get Module 1 of Guitar Riff 100% FREE!
Look, there is NO CATCH! This is a genuine FREEBIE!
Whether you already play the guitar, or are aching to be able to "knock out a tune", the Guitar Riff video tutorials are a great way to fast track your progress! And we are GIVING AWAY Module 1 of our Membership Site 100% FREE if you join us by Midnight on !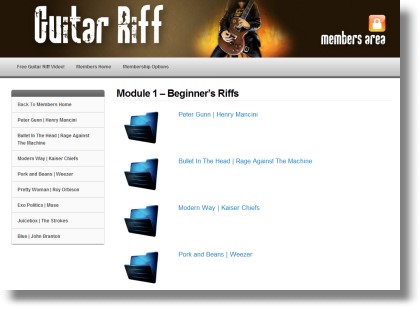 Easy to follow video tutorials

Learn at your pace

Short lessons for fast progress
Pause, play, rewind
Presented by a highly qualified music tutor
John Branton has been playing and teaching guitar for over 40 years, and is a highly skilled musician and a truly gifted teacher.
At his music studios in Cambridge in the UK and Bangkok, Thailand, John commands a high hourly rate for one on one tuition, but there are only so many hours in the day, and he has a strong desire to reach out and teach far more students than he could ever physically meet.
And so Guitar Riff was born!

Pop your details into the box and you'll soon see.  We're confident you'll be playing in no time!
AND REMEMBER….THIS ONE IS 100% FREE!